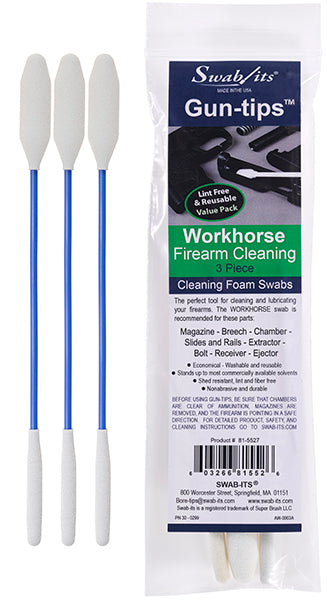 81-5527: 8.5" Double-Ended Workhorse Gun Cleaning Swab Gun-tips™ by Swab-its®
Swab-its® Cleaning Swabs: precision cleaning for achieving optimal cleaning results.
Visit Swab-its® safety section to learn more about cleaning with our Bore-tips™ - click here for Swab-its® safety section.

3 PACK OF DOUBLE-ENDED WORKHORSE SWAB : Swab-its 81-5527
Gun-tips™ Bag of 3 Double-Ended Gun Cleaning Swab
Swab-its® brand new double-ended gun cleaning swab - featured by eNosArmory
"My favorite tool for cleaning, the workhorse of my gun cleaning regiment" eNosArmory. - Click here to view his review!

Please Note: Bore-tips are not recommended for use with solvents designed to remove plastic.

Tough and Reusable - Clean and Reuse - WASHABLE
Lint free and Fiber Free
Follows rifling
Tight bore fit
Maximum cleaning & lubricating
Withstands many tough solvents
Economical and efficient
Non-Sterile Swab
Foam Swab Dimensions
Head Width: .50" & .25"
Head Length: 2" & 2"
Handle Width: .15"
Handle Length: 8.5"