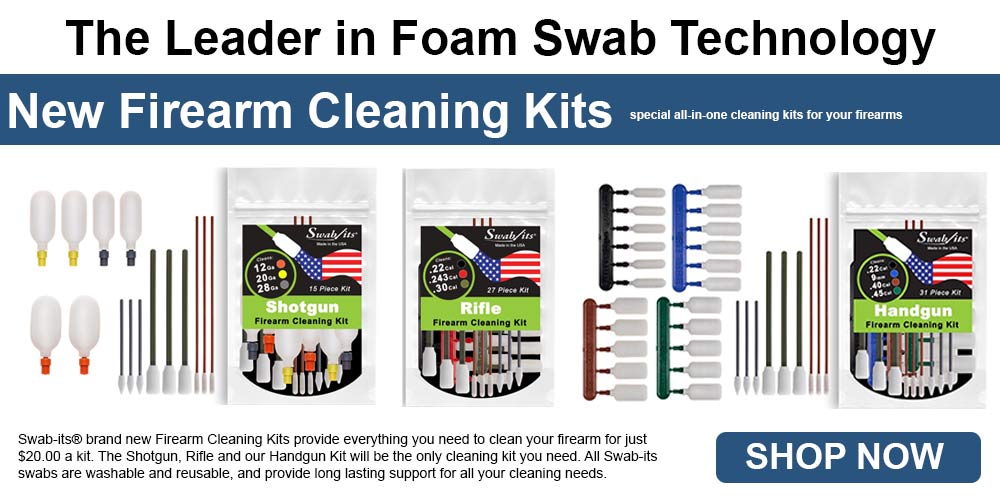 Brand New Firearm Cleaning Kits: Handgun, Shotgun and Rifle Cleaning Kits
Swab-its® brand new Firearm Cleaning Kits provide everything you need to clean your firearm for just $20.00 a kit. The Shotgun, Rifle, and our Handgun Kit will be the only cleaning kit you need. All Swab-its swabs are washable and reusable and provide long-lasting support for all your cleaning needs.
Firearm Cleaning Kits: 
Rifle: .22cal, .243cal, .30cal and 9-piece Gun-tips
Handgun: .22cal, .357.cal, .40cal, .45cal and 9-piece Gun-tips
Shotgun: 12ga, 20ga, 28ga/.50cal, and 9-piece Gun-tips
About Bore-tips:
Bore-tips® are a tough, reusable foam tips engineered for a specific tight bore fit providing 360 contacts with all the lands and grooves of the rifling. No more messing with jags or having to load poor fitting patches to the cleaning rod. Bore-tips thread onto a standard 8-32 cleaning rod.
Bore-tips® performs better than patches and offers complete coverage and delivery of cleaning solvents and oils to the firearm. They are both reusable and can be washed, offering a very economical way to keep your firearm clean.
Lint-free, washable, and re-useable, Bore-tips® are caliber-specific firearms cleaning foam swabs that utilize your standard cleaning rod and provide a superior result compared to traditional cleaning methods. There is no need to fumble with patches and jags or pick lint left behind by old-fashioned cotton patches.
About Gun-tips:
Gun-Tips® are engineered to clean every nook and cranny of a firearm. They are offered in a variety of packs, multi-packs, and precision packs.

Gun-tips® are foam swabs that are reusable and replace cotton swabs for cleaning all the action areas of your firearm! These are the newest and must-have cleaning products for all firearm enthusiasts.
Gun-tips are firearms cleaning foam swabs that are lint-free, washable, and reusable. Gun-tips are made in a range of sizes for cleaning slides, rails, trigger assemblies, crowns, and other hard to reach places. The plastic handles are bendable and will not break or splinter like wooden sticks.
Sale

Swab-its

WEB VALUE PRODUCT! Brand New Swab-its® Handgun Firearm Cleaning Kits. This kit includes everything needed to clean your handgun. Barrel tips and fo...

View full details

Sale

Swab-its

WEB VALUE PRODUCT! Brand New Swab-its® Rifle Firearm Cleaning Kits. This kit includes everything needed to clean your Rifle. Barrel tips and foam c...

View full details

Sale

Swab-its

WEB VALUE PRODUCT! Brand New Swab-its® Shotgun Firearm Cleaning Kits. This kit includes everything needed to clean your Shotgun. Barrel tips and fo...

View full details