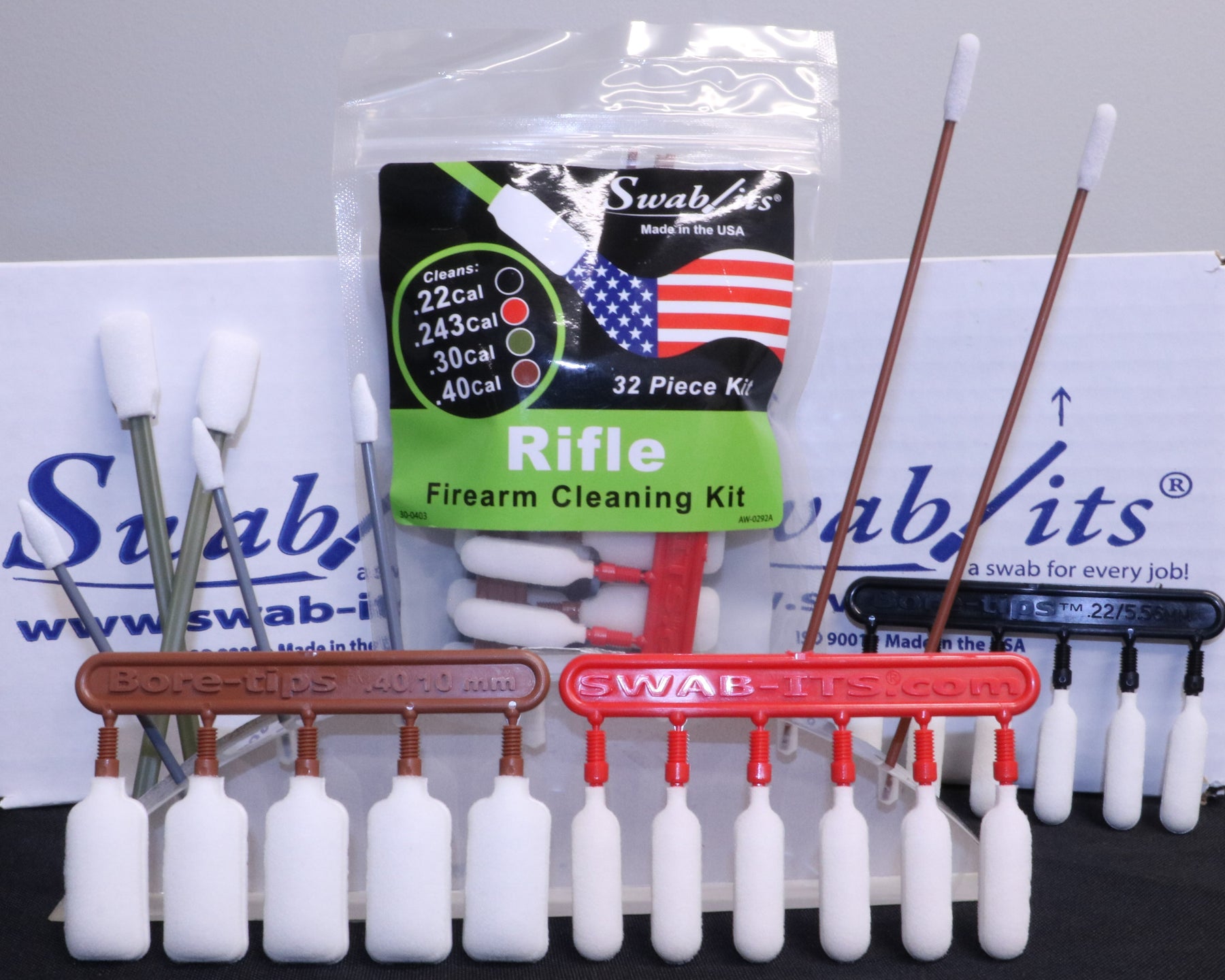 Swab-its® Rifle Firearm Gun Cleaning Kit
The Swab-its® Rifle Firearm Cleaning Gun Cleaning Kit offers everything you need to clean and preserve your rifles! The complete kit includes a variety of 32 washable and reusable foam cleaning tools. Swab-its are the perfect solution for multi-purpose cleaning and detailing. The Swab-its Rifle Firearm Cleaning Gun Cleaning Kit can easily be reused by rinsing with soap and water or mineral spirits. Swab-its are extremely durable tools that are designed and manufactured locally in the USA. Because of the polypropylene thread handles and non-reticulated polyurethane foam, the firearm cleaning tools are extremely durable and can last for years. Swab-its are lint-free and fiber-free to get your firearm like new again. Swab-its® Rifle Firearm Cleaning Gun Cleaning Kits are available now on Walmart.com! 
The Rifle Firearm Cleaning Kit includes 4 different sizes of Bore-tips™ for .22, .243, .30, and .40 caliber firearms. Bore-tips make barrel cleaning quicker and more convenient by accessing the hard-to-reach areas of firearms. For your convenience, Bore-tips attach to a standard 8-32 cleaning rod. Bore-tips and Gun-tips by Swab-its have 5-star reviews on Walmart.com, and are quickly growing in popularity.  
The multiple types of Gun-tips included in the kit make cleaning and lubricating action areas, triggers, pins, levers, rails, and magazines easier than traditional methods. Gun-tips are compatible with cleaning solvents and lubricants. The Rifle Firearm Cleaning Kit is valued at $29.99, and is currently on sale on for $17.98.
For more information, please visit https://www.walmart.com/ip/Swab-its-Rifle-Firearm-Gun-Cleaning-Kit-32-Washable-and-Reusable-Cleaning-Swabs/268788205